FixPart is dé webshop om huishoudelijke apparaten te fixen. Met ruim 15 miljoen onderdelen kan je jouw koelkast, koffiezetapparaat of wasmachine weer nieuw leven inblazen. 'Ga voor duurzaam door te repareren' is het motto van onze klant FixPart.
Onze SEA-specialist Bryan heeft een lange historie met FixPart. Tijdens zijn studie kwam hij al in contact met de onderdelen groothandel uit Nijmegen. Met een recordbrekende strategie werken Fosby en FixPart nu al meer dan 5 jaar samen. Inmiddels is FixPart actief in 10 verschillende landen.
Groeiende Google Ads- en Google Shopping campagnes
De structuur voor alle Google en Microsoft paid advertising campagnes is opgezet in de tijd dat Bryan nog stage bij Fosby liep. Het assortiment van FixPart bleef alle jaren flink groeien, waardoor alle campagnes en de campagnestructuur ook continue aanpassingen vergden. Inmiddels is FixPart een van de snelst groeiende accounts van Fosby, mede doordat FixPart is steeds meer landen in Europa actief is. En Bryan? Bryan is inmiddels doorgegroeid naar teamlead voor het account FixPart.
SEA uitbreiding door heel Europa
Het Fosby team voor FixPart bestaat inmiddels uit vier online marketeers. Alle verschillende online marketing activiteiten worden door verschillende specialisten uitgevoerd. De webshop met handige onderdelen was oorspronkelijk alleen actief in Nederland, België en Luxemburg. Inmiddels managen en monitoren we met het Fosby team nu ook campagnes voor Duitsland, Frankrijk, Oostenrijk, Italië en Spanje. En op de roadmap staan nog meerdere Europese landen. 
International Growth Program
Sinds 2019 is Fosby een International Growth Agency. Het International Growth Program is een exclusief partnerprogramma van Google, waarmee bureaus klanten kunnen helpen bij het uitbreiden naar nieuwe landen. Fosby heeft toegang tot nieuwe en extra bronnen vanuit Google, die helpen om internationale marktkansen te identificeren. Daarnaast helpt Google met vertalingen en checkt Google de webshop of verschillende punten. Zijn alle betalingsopties correct voor een desbetreffend land? Welke logistieke opties zijn er? Sluit de webshop aan bij de cultuur in een land? Welke concurrenten zijn actief in een land? Op al deze vragen ontvangen we antwoorden om daarmee op een optimale manier toe te treden tot een nieuw land.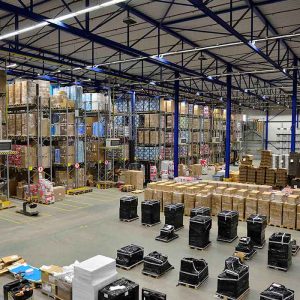 Een bijzondere samenwerking
Wat begon als een band tussen bedrijfsbegeleider en student is inmiddels uitgegroeid tot een bijzondere samenwerking. Bryan en het Fosby specialisten team helpen FixPart uitbreiden naar andere landen.
"Ik vind het geweldig om met FixPart samen te werken. Ik ken het bedrijf door mijn studie al jaren, dus ik weet goed hoe het bedrijf werkt. Dat helpt zeker in mijn rol als team lead. Zo kunnen we de beste campagnes neerzetten en uitbreiden in heel Europa."
De samenwerking tussen FixPart en Fosby
"Met vier Fosby marketeers gaan we iedere dag de uitdaging aan om meer transacties voor de webshop te realiseren. We hebben regelmatig meetings en bijna dagelijks contact per telefoon. We zien voldoende uitdagingen in deze concurrerende markt. We hebben al vanaf de start een hele fijne samenwerking. Tuincentrum geeft ons veel ruimte om mee te denken en alle marketingactiviteiten optimaal in te zetten."
– Steven,
Online Marketeer bij Fosby
Wil je jouw online marketing uitbesteden? Neem contact op voor een vrijblijvende audit: +31 318 – 49 53 67